Three Souvenirs Found
It is close to spring and I am seeing lots of cleaning that needs to be done, along with other chores. Here are several items that we keep for the memories.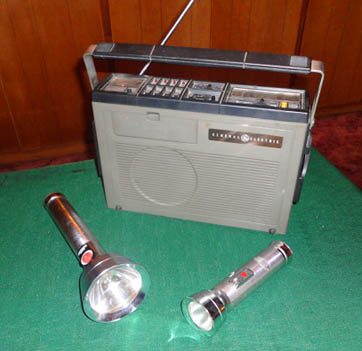 This radio and two flashlights belonged to Margaret's father Hunter Thacker. He used them in his investigative and security business, Thacker Detective Agency. They both still work well. The radio will access channels that police used in the past. The purpose was to hear what was going on with the police by overhearing their messages. This might aid him in defending one of his clients, like get to the scene soon. Now the only thing other than ordinary AM and FM radio that I can hear is a couple of weather reports broadcast continuously on these channels. The flashlights are a set and are heavy and well made. The larger holds 3 D cells and the smaller holds 2.
See the 'Whether Potes' page in these Current Events.
This sign has been here on our property for 23 years. The agency has been renamed for more than that and is no longer in the family.