RETIREMENT TRIPS (page 2)
I thought you might enjoy these photos from today's visit to the Blue Ridge Parkway in North Carolina. (May 30, 2009)
Lake near Doughton Park.
Cumberland Knob Visitor Center.
Spring Time at Mabry Mill.
This was an outstanding day at Mabry Mill. Wish all of you could have been there. This is said by some to be the most frequently photographed scenery in the state of Virginia.
Some of you might appreciate these photos of the bottom of the Grand Canyon. The first photo shows the view looking down the South Kaibab Trail on the South side, with the Colorado River and the black (mule) bridge at the bottom.
The other photo was taken from inside the canyon on the North side at the top of the inner gorge. In this one, you can see the South Rim in the distance and the Colorado River and both of its bridges at the bottom of the Canyon.
This is a photo of me and my wife Sandy at the Big Spring Canyon Overlook in the Needles District of Canyonlands National Park, Utah, taken June 23,2009.
Colorado River gooseneck from Dead Horse Point.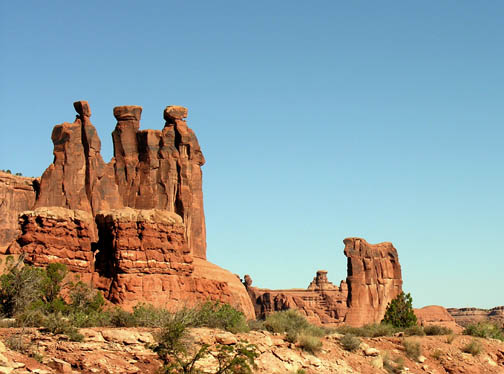 Three Gossips and Sheep Rock, Arches National Park.
This is a photo from the La Sal Mountains in Utah. These are some of the highest mountains in Utah, with peaks reaching up to about 12,700 feet above sea level. The name is derived from the Spanish for "salt", as the rocks in this area contain a large amount of salt, largely potassium chloride (KCl), which is mined in some areas for use in fertilizer. The yellow wildflowers are said to be a variety of sunflower and will supposedly grow much larger as the warm season progresses. Hope you enjoy the photo.