RETIREMENT TRIPS
Since Bob and Sandy Smith both retired they have been traveling a lot. Here are some photos from trips to Arizona and Alaska.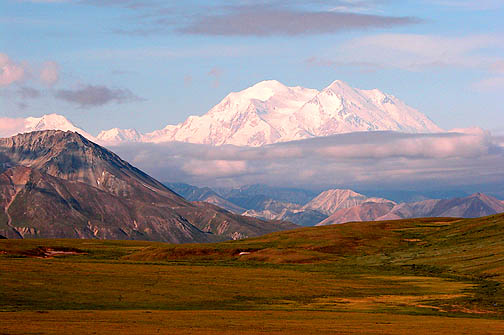 This photo, taken at the visitor center in the interior of Denali National Park, AK, shows Denali (Mt. McKinley) rising above the clouds which frequently obscure it from the view of inquisitive tourists.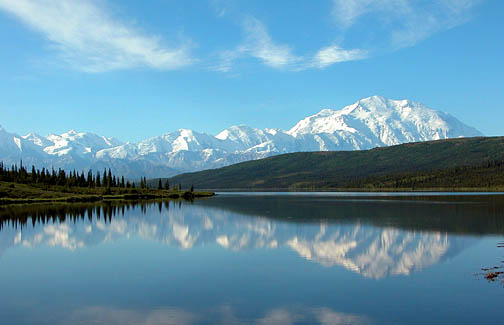 This is a photo from Alaska (Denali National Park). The largest and highest mountain (right side of photo) is Denali (original Indian name) which has been known at some times as Mt. McKinley. Its summit is over 20,000 feet above sea level, and it is the highest mountain in North America.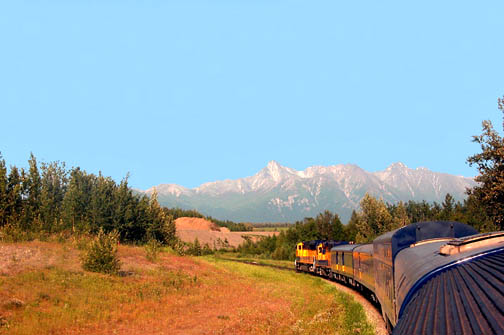 This is the view from the observation car on the Alaska Railroad as the train approached Anchorage from the North. This was quite a scenic and memorable train ride.
We saw this bird sitting on its nest in a lake in Alaska. The tour guide called it a red necked grebe. The bird appears to be trying to talk to us, probably telling us to go away. The water is so clear it is difficult to tell where the reflection begins.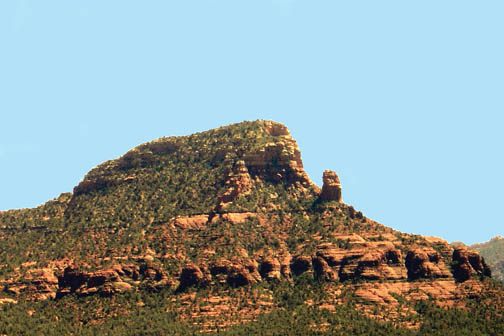 Sedona,
AZ, is known for its unusual rock formations. Since some of you apparently enjoyed the photo of Snoopy Rock, I thought you might also appreciate this one of Elephant Rock, which is situated not far from downtown Sedona.
Those who like the Peanuts comic strip (and possibly any who do not) may appreciate this photo from Main Street in Sedona, AZ. The rock formation in the center (sort of) looks like Snoopy lying on the roof of his doghouse looking at the sky, hence the name "Snoopy Rock". Snoopy appears to be enjoying the view (if he's not sound asleep) and I hope you do also.
This is a view of wildflowers and the distant Garden Wall from Logan Pass in the center of Glacier National Park, Montana. The Garden Wall is a narrow rock ridge carved out long ago by glacial ice moving down both sides of the hard central layer of rock which now remains as the wall (an arete in geological terminology).
We hiked through this valley in the Purcell Mountains in British Columbia (Canada) in 2002, and I thought the view was outstanding. Hope you enjoy the photo.