NO LONGER IN USE
I sometimes see an item sitting among a clot of household items. It will catch my attention as soon as I realize that I see an item that Margaret used regularly in the past but no longer uses.
Margaret does not use her desk to do the work that she used to do. It has been several months or more since she came upstairs and sat at the desk, doing nothing.
I probably did as much as anyone to use the desk to store items that need to be thrown out or used in the future. I managed to clean off enough space to do our income taxes this March 2012. It still needs work.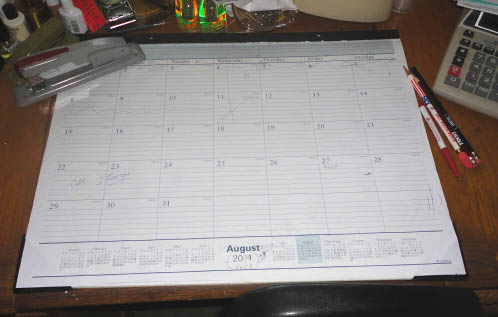 This desktop calendar is an indicator of how long Margaret has been away from her desk. The top sheet is for August 2010, going on two years.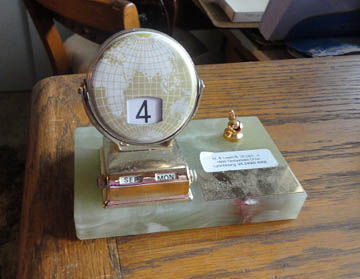 Margaret has several of these daily date reminders. They are all stuck on an old date. This one shows Monday, September 4. The last year that Sept 4 fell on Monday was 2006. I suspect there is an error due to playing with the toy.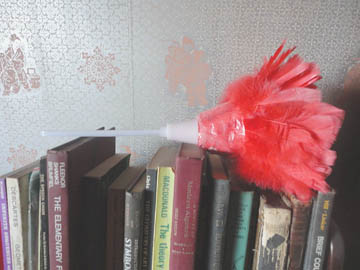 Margaret gave this feather duster a conspicuous place on top of a book case. It has not been used in a good while and the dust is collecting all over everything.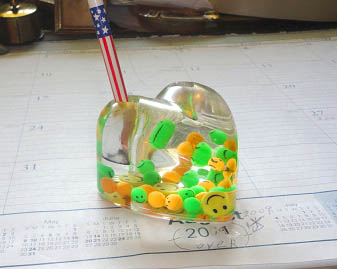 A combination paper weight and pen holder. It is a large plastic container filled with a liquid, candy and happy faces; with two holes to hold pens or pencils. The pen holder is still useful but the paper weight is not. The purpose was to hold down a stack of papers less the wind blow them away. Before the days of air conditioned workplaces people opened windows in the summer, allowing a stray breeze to mess up a stack of papers.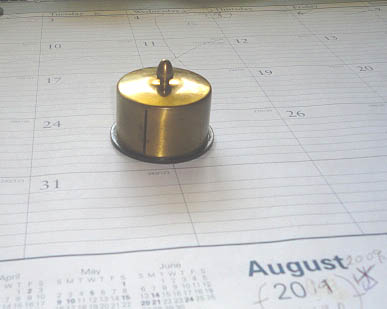 A brass coil stamp holder. Notice the black slot in the front side of the holder. The post office issued postage stamps in coils of a hundred or more. The coil holder allowed you to pull out, through the slot, and tear off, at the perforations, one stamp at a time, while keeping the stamps neat and safe.