A DEER IN OUR BACK YARD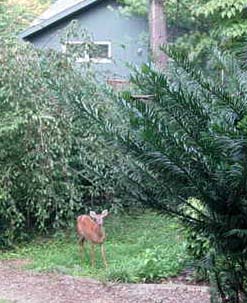 There are too many deer in the neighborhood. They all can't find enough to eat, so they will enter back yards at night or day to eat grass, tree leaves, or garden vegetables and flowers. Neighbor Chip Loving has had to put an electric fence around his garden. This deer is in our back yard, close to neighbor Sally Frazier's house.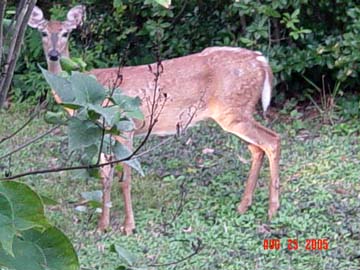 The same deer, a dozen feet from me hiding behind a storm door, is not frightened by the sound from our television. It seems to be listening for some sound that indicates danger.
Here is a list of wild animals I have seen in my yard:
Deer
Rabbit
Chipmunk
Squirrel
Frog
Turtle
Opossum
Black Snake
Birds of all sorts, including Hummingbird and Wookpecker.
On the lake we have had Beaver, Ducks, Great Blue Heron and Geese.
And pets such as Dogs and Cats are also present, although the leash law makes dogs very rare in my yard.