Walter Clyde Steppe
IUKA KANSAS - Walter Clyde Steppe, 82, died Dec. 13, 2002, at Fort Dodge, Kansas. He was born March 19, 1920, in Campbell County, Va., the son of Cleveland and Kate Bailey Steppe. He was a retired truck driver for Panhandle Eastern Pipe Line Co.
He belonged to Iuka United Methodist Church and Veterans of Foreign Wars.
He served in the U.S. Army Air Corps during World War II in the 45th Bomb Squad.
On Nov. 9, 1944, he married Irene Helsel at Greensburg, Kansas. She survives.
Other survivors include: a son, Danny Steppe, Laurel, Montana, a daughter, Clydie Prince, Pratt, Kansas; a sister, Mary Booth, Rustburg, Virginia, eight grandchildren; and eight great-grandchildren.
Funeral will be at 11 a.m. Tuesday at Ayres-Calbeck Mortuary, with the Rev. Billy Hughes presiding. Friends may call from 1 to 8 p.m. today and 9 a.m. to 8 p.m. Monday at the mortuary. Burial will be in Iuka Cemetery.
Memorials may be sent to Iuka Methodist Church in care of the mortuary.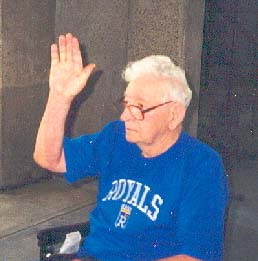 This is Uncle Clyde at the Old Soldiers Home, probably summer 2002.